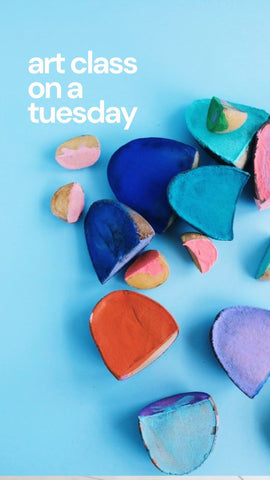 Art Class On A Tuesday '
Various artistic mediums will be taught strengthening the understanding of each participate. The participants will have a safe and inspiring environment to engage in hands- on creative problem solving activities. 
Art Class On A Tuesday includes:
Depening on what option you choose-
4 Private- 1 hour sessions each Tuesday of the month
4 Group- 1 hour sessions each Tuesday of the month 
No classes will be held on Holidays 
Ages 4 and up- if you would like to add a sibling or a friend to attend the same session-  Please select session companion from drop down option above with the time available to you. 
You may choose the time available to fit your schedule from the drop down option above.
Private Lesson Tution- $180.00 per month
Group Lesson Tution- $95.00 per month 
Address will be disclosed after time of purchase has been made with drop off and pick up instructions. Skye Canyon 89166
Participants should come prepared with appropriate apparel for art making. 
* Please note you are purchasing a session for one month. If you would like to continue to the next month your session will be secure with monthly payments.
* Classes will begin September 5th 
Thank you!